We offer some of the most spacious apartments in southern California. With 10 ft ceilings, patios or balconies in each apartment, large private bathrooms, available kitchenettes and vanity areas, our apartments set us apart from the rest.
Dining
Enjoy breakfast, lunch and dinner prepared by our chefs and served in our restaurant style dining room. We can accommodate special diets and allergies including low-sodium, diabetic, and vegetarian. We also offer tray service, and a selection of alternative menu options.
Pet Friendly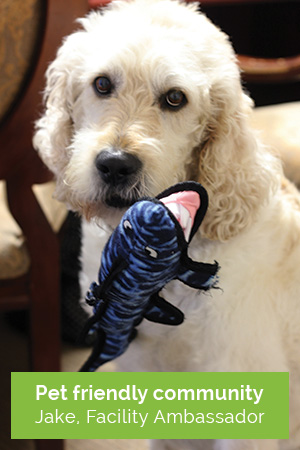 We also have an in house beauty salon, and stylists that come weekly. They offer services including hair coloring, hair cuts, manicures and pedicures.
Assisted Living Services
Your health and wellness are our top priority. Our care team can help you manage your care needs, such as
24 hour on site care staff
Assistance with scheduling medical appointments and transportation
State of the art wireless nurse call system
Bathing
Dressing and grooming
Medication management
Incontinence care
Laundry service
Caregiver escort service
Transportation to medical appointments
Diabetic/Coumadin management
Transfer assistance
Other Services Offered
Assistance with scheduling medical appointments and transportation
Transportation to local shops and banks
On-site postal service and newspaper delivery
Regular housekeeping service
Linen Service
Laundry room
On site maintenance staff